Renewal of the air-conditioning systems throughout South Lanarkshire College, across 4 levels and incorporating over 100 new indoor units. Major works carried out at roof level in-addition to upgrades within the plantroom area.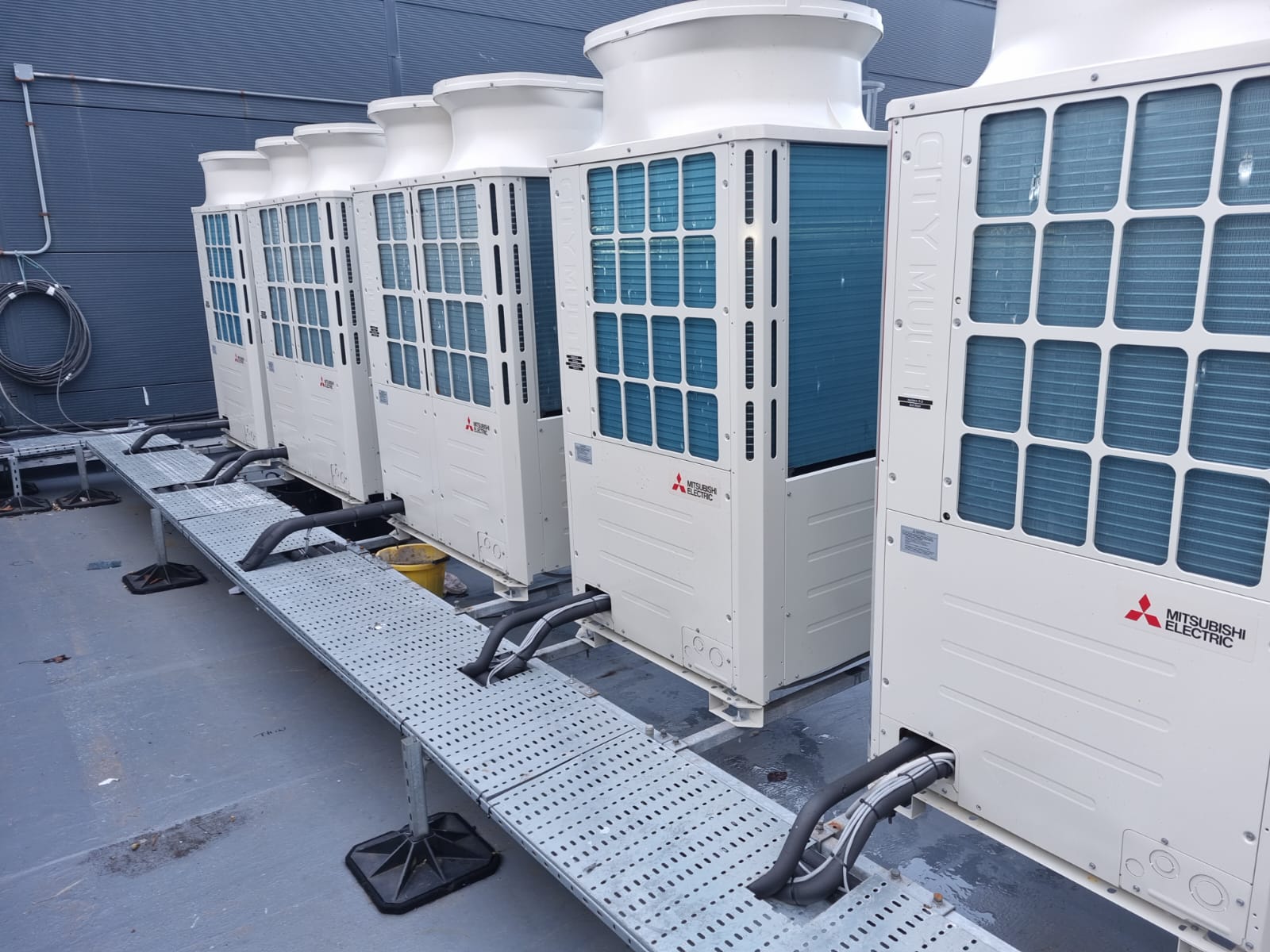 Client: PMC Commercial Ltd
Location: East Kilbride, South Lanarkshire
Sector: Education
Contract period: 4 Months
The project
South Lanarkshire College consisted of the refurbishment of the air-conditioning systems of a four-storey college, the majority of the works were related to the air-conditioning system, however works were also carried out to the LTHW pipework within the plantroom and locally at the air handling unit which was raised onto a new big foot support frame.
Service Provision:
Decant and strip-out of existing air conditioning systems
LTHW alterations at Air Handling Unit to allow a new big foot system to be installed
LTHW alterations within plantroom and new filtration system.
New Mitsubishi VRF air-conditioning system with over 100 indoor units.
Building Management System upgrade to incorporate AC installation.
HVAC commissioning & client handover
Our expertise
PREAH were involved from early stage through to completion and handover. Our expertise was utilised on the HVAC systems including air-conditioning, LTHW pipework including pipe fitting, arc welding and finally ventilation works. We worked closely with the design team and the college to deliver a successful project for our client PMC Commercial Limited.
The challenges
There were various challenges associated with this project. Primarily working in an occupied college throughout the duration of the project
Detailed planning of works was key to ensure our team had minimal interaction with the students and staff. Areas of the building was sectioned off to ensure access was for workers only. This was key to ensuring we kept our workforce as safe and avoided contact with others as much as possible.
One critical work sequence for this project was workfaces at Roof Level. The removal and replacement of all air handling unit and also the positioning of new condensers on the roof of the college took careful planning and execution from our team as we worked closely with the PMC Commercial Ltd. The positioning of the new air conditioning condensing units and air handling unit can be seen in the enclosed photographs.